Blimey, it appears the old one got deleted :/
Nevermind, I'll try and bring it back to its former glory (and maybe even improve it :3), 'cause we can't go MUGENing without our 'mons, now can we?




[ Characters ]
Word of warning, the majority of these are terrible and not worth a spot in your roster. Then again, perhaps you want a roster full of Pokémon, no matter how awful :U


- No known M.U.G.E.N version specifications.

- WinMUGEN only.

- M.U.G.E.N 1.0 only.

- Download is unavailable/broken.




[ Other crap ]
Because the old thread had it.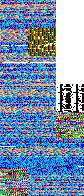 [ Stages ]




[ Misc. ]

Pokemon: MUGEN Edition (screenpack)
Pokemon Type Wild (screenpack)
Pokemon Mugen Edition (full game)
Additional palettes for Ramparudo (Rampardos)
Male voice for Flareon
Female voice for Jolteon
Male voice for Glaceon
AI patch for Aiant (Durant)
AI patch for Ðshiznetz's Gardevoir
Palette patch for Ðshiznetz's Gardevoir

[ Junk ]
Stuff that should've never seen the light of day.




You know the drill: you find something not in this collection, you post it up. If any of the links aren't working, let me know.